Upcoming Workshops July 2022 @ the Farm
We have quite a line up of celebratory, inspiring, creative, fun workshops, excited to see you there! Keep reading to see the four events this month.
Email waterleaffarm@gmail.com or text 503.916.9576 to sign up or with questions.
~Workshops and experiences on the farm to cultivate deeper relationships with the flowers, earth and ourselves.
~Seasonal celebrations to attune with the cycles of Nature.
*Flower Crown Making
*Mandala Making
*Flower Essence Making
*Experiential Flower Farm Tours
*Flower Inspired Dance!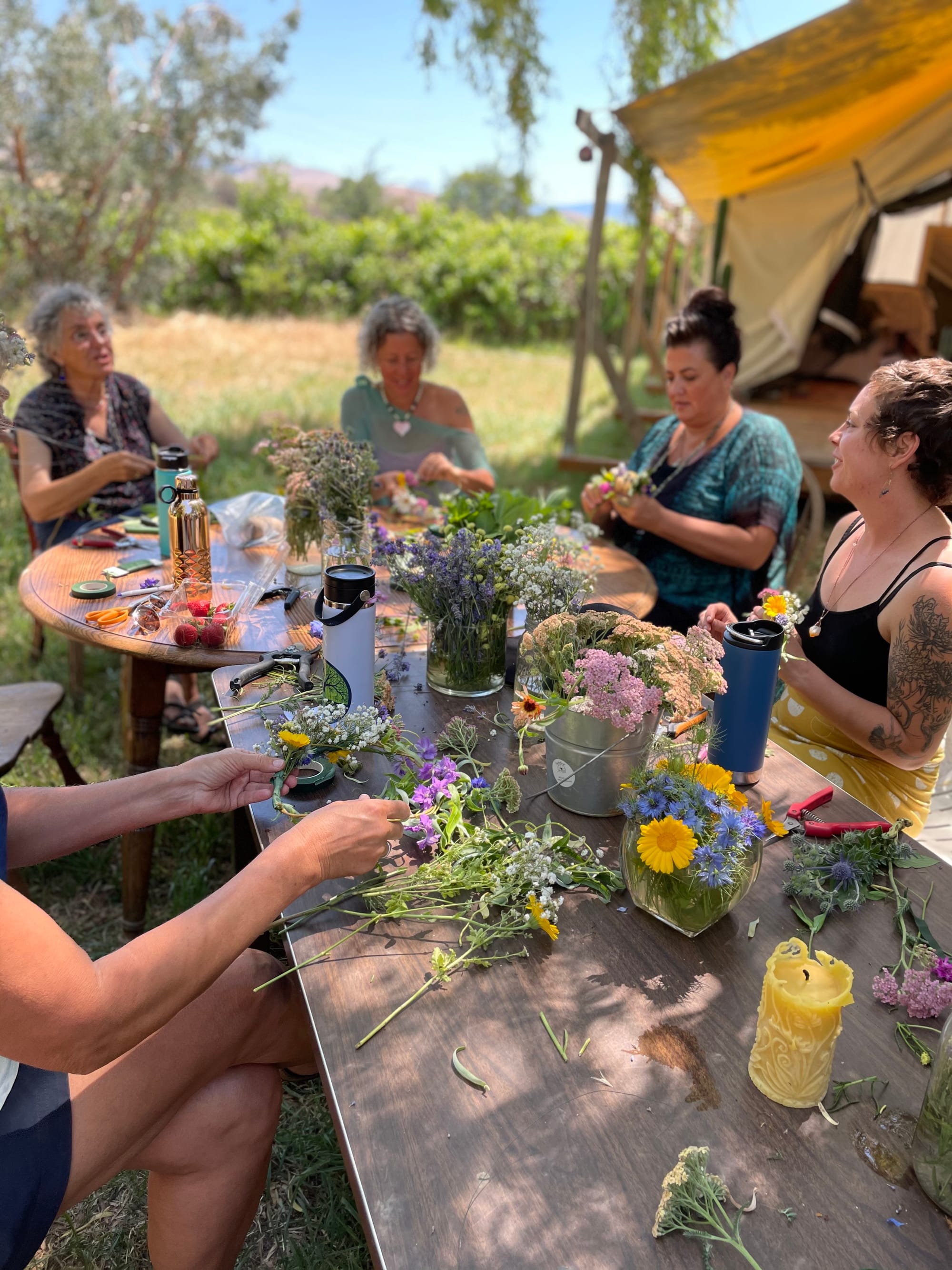 ~July 10, 11-1pm Blossoms and Blends -Bouquets and Oils~ (Rescheduled from Mother's Day cold weather) $40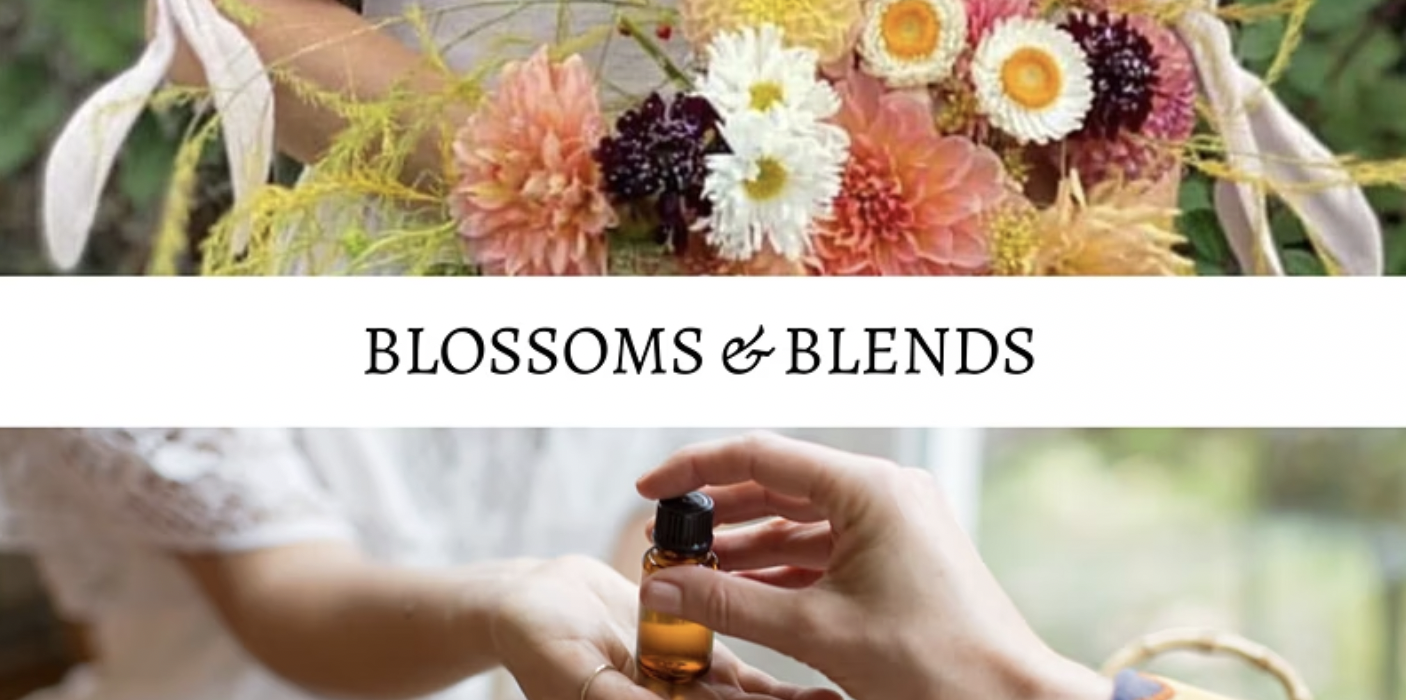 Come join for this lovely time!
Make your own farm fresh bouquet and learn about Aromatherapy for self-care/stress relief.
Bring your picnic blanket, a sunbonnet, and sit under the willow tree with Arin of Jasmine and Juniper and I as we weave magic with the plants. Learn to assemble your own fresh farm bouquet, enjoy a sweet guided meditation and learn the ancient art of anointing with essential oils.
Everyone takes home a bouquet of flowers and a custom essential oil blend designed by Arin of Jasmine and Juniper.
~July 22 (5:30-7pm) elixir medicine making~~
A season with Tulsi (Holy Basil) Series
Monthly May-September $22-35 sliding scale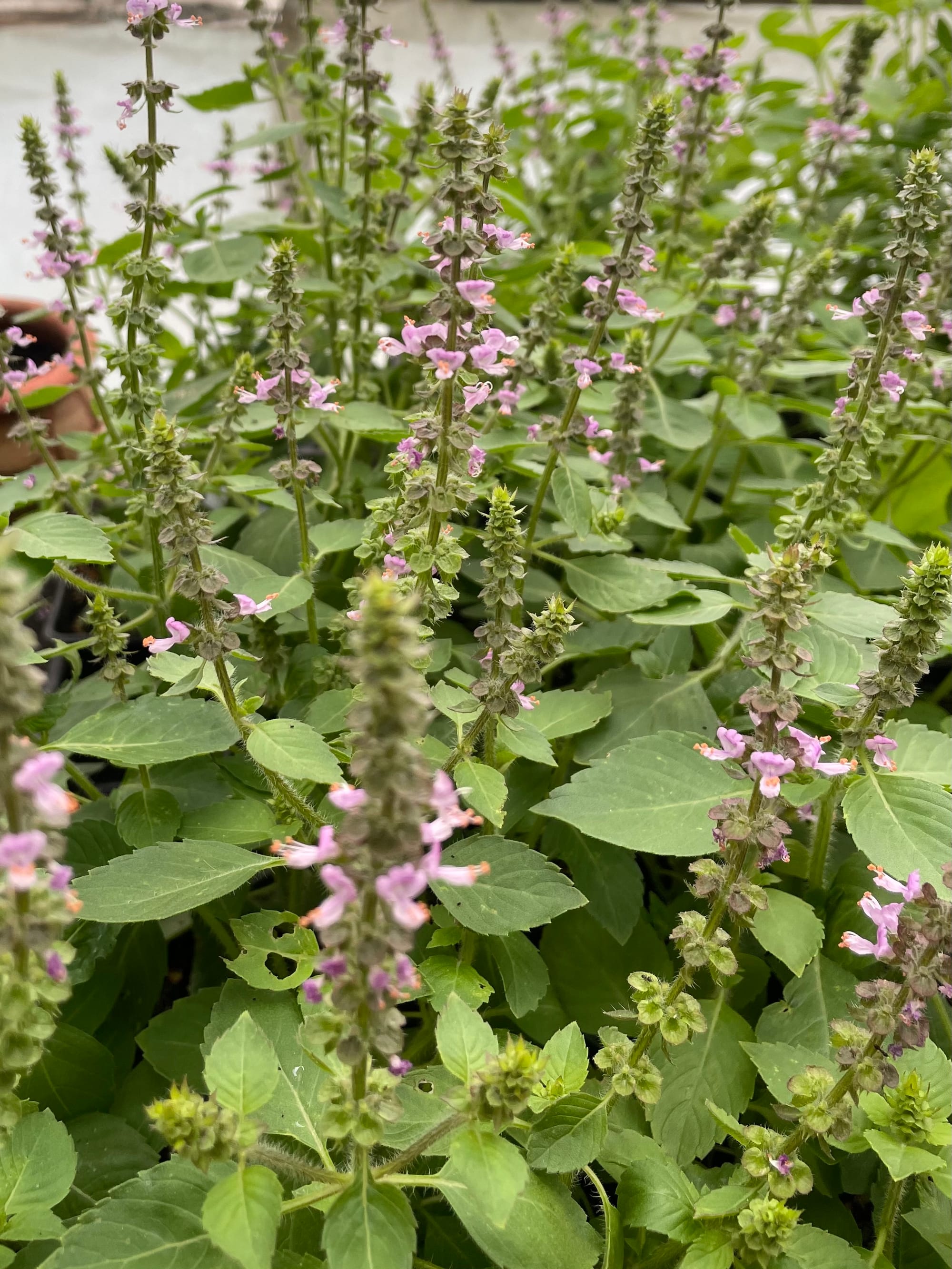 Interested in plant communication and attuning to nature's wisdom? Would you like to have more self-love, joy, peace, or healing in your life?
Deep Dive with Tulsi (Holy Basil)- She's Amazing!
Get to know this sacred plant being, revered through the ages as the Divine Feminine Embodied. Tulsi is pure love and beauty, and so delicious!
Through the joy of cultivating, tea meditations, flower essence & elixir medicine making, rituals, and crafts; we will get to know her and receive her healing wisdom.
You'll come away from the series with greater skills in using your intuition, understanding how to create a container of reciprocal relationship with plants, creating ceremony with tea, making herbal medicine, and receive love from Tulsi and Nature.
Each month we will gather at the farm and commune and play with her in the garden. All experiences will be guided. No prior experience necessary and experience is also welcome. Each workshop includes a take home goodie from Tulsi.
~Sundays 11- 12:30pm at Waterleaf Farm Ashland~
August 28 - medicine making or flower essence making
September 25- tulsi embodiment and tulsi crown making
~July 24, 4-7pm Flowers and the Feminine w/Kaila Rose~
Women come join us making flower crowns and then moving with earth and flower inspiration, to celebrate and connect to our juicy, beautiful femininity. Kaila Rose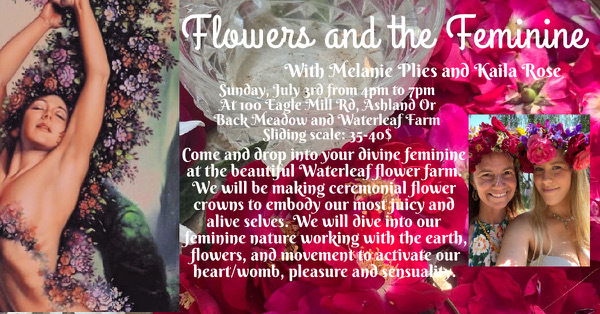 Stay Tuned for Dates Throughout the Season:
Experiential Flower Farm Tours (May- October)
Immerse yourself in early fall abundance and join Waterleaf Farm for a meander through the flower gardens, sprinkled with herbal medicine plants and food. Touch, smell, and behold the beauty with your eyes as Melanie shares stories and experiences about cultivating and connecting with the unique essence of different flowers. You'll naturally deepen your feeling of connection with the flowers and delight in the bliss of the living plants and pollinators. You may even be inspired to laugh, giggle,and sigh in relaxation.
We'll finish our time by choosing flowers for a bouquet to take home and continue enjoying the beauty.
$30 including the bouquet.
Fresh Flower Crown Making Stay Tuned for Early August, $25-30
Celebrate summer's abundance with fresh flower crown making with locally grown organic flowers. Weaving with the flowers allows us to be in their presence and receive their gifts. Melanie will also share about the flowers as we craft together. No experience necessary. Delight in wearing your crown for the day! And dry it for other days. Come play in joy and reverence.
Wreath Making Workshops (Year Round)
-Join a festive, seasonal workshop making fresh (March-October) or dried flower wreath/crown (Year Round). You will have many flowers and foliage to work with from the farm and the wild. Enjoy crafting together as you're guided to make your own unique, magical creation. This workshop includes all the materials and tools you'll need to make your own fresh or everlasting wreath or artistic creation.
-Inquire about Private Parties here.